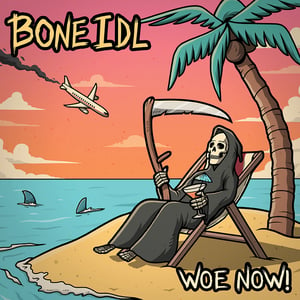 £

15.00
Label
Brassneck Records
Detail
5 track 12" EP on Orange Vinyl with Black Smoke. Limited to 100 copies.
Chepstow's finest are back with their second release on Brassneck and it's out now on super-limited colour vinyl.
If you didn't catch their debut release in 2021, Bone Idl deliver their punk with aggression and gusto and this new EP sees the trio blasting out 5 new songs of woe in a little over 12 minutes. There's no messing around here, this is straight-up, slap you in the face punk rock from one of South Wales' best bands.
Only 100 copies were pressed. There is no pre-order, they are available right now and start shipping next week. Do not miss this one!
Tracklisting
A1 Woe Now
A2 Goodwill
B1 Cum Clean
B2 Science Fiction
B3 If You Don't Mind
Listen / Download here