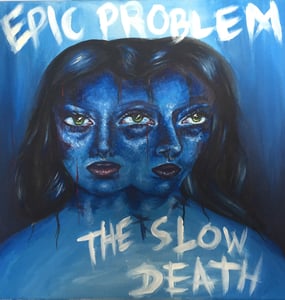 £

4.00
This is a pre-order. UPDATE (12th May 2016) - existing pre-orders will begin shipping on Saturday 14th, at which point the pre-order officially ends and the record will be for sale normally.
Labels
Brassneck Records (neck019)
Rad Girlfriend Records (RGF-053)
Detail
4 track 7" available on either Blue or Black Vinyl.
Blue Vinyl limited to 100 copies - SOLD OUT
Black vinyl limited to 400 copies.
Includes download code.
Hopefully you already know both bands but just in case you don't... Epic Problem are from Derby (UK) and are (for want of a better description) kind of like the UK version of Off With Their Heads. But with a streetpunk edge. And with Mackie from Blitz. The Slow Death are one of Jesse Thorson's (The Falling Angels, The Lil Happiness) current bands. They're from Minneapolis and a perfect accompaniment to Epic Problem. Think Tiltwheel, OWTH, Dillinger Four, etc and you'll be in the right ballpark.
Tracklisting
A1 - Epic Problem - Skincrawl
A2 - Epic Problem - Mannheim Nil
B1 - The Slow Death - Bored To Death
B2 - The Slow Death - Not Today
You can watch a video for Epic Problem's Skincrawl here and download the full 7" here