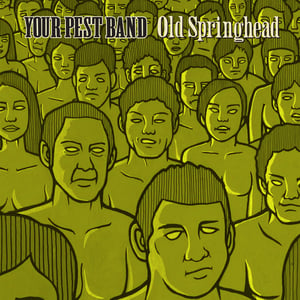 £

8.00 - On Sale
Labels
Brassneck Records (neck022) - Europe
Dead Broke Rekerds (DBR-159) - USA
Snuffy Smiles (snuff-142) - Japan
Detail
17 track Double Vinyl LP in a chunky gatefold sleeve.
550 copies pressed on black Vinyl.
Brassneck is proud to announce a brand new double full-length album from Japan's best garage power-pop punkers! YOUR PEST BAND are at it again and, with their 4th album "Old Springhead", they deliver 17 songs of lo-fi garage power pop rock akin to The Zombies, mixed with the rough edges of bands like The Jam, Teengenerate & Husker Du. In fact, I don't think it's too big a stretch to consider this the band's "Zen Arcade". It's clearly YPB's greatest material to date, cohesively melodic pop, laced through-out in pure rock & roll hooks. There's even the 16-minute long opus, "Swell", which is impressively the best, longest song we've ever released/heard. Cannot recommend this one enough. Housed in a beautiful deluxe gatefold sleeve with stunning artwork from Masashi Watanabe & all copies include a download code.
Tracklisting
A1 - Another Pale moonlight
A2 - Old Springhead
A3 - Found Out
A4 - Late
A5 - Skeletonized Corpse
B1 - Smog
B2 - Nothing
B3 - Secret
B4 - Exits
B5 - Blue
B6 - Still Alive
C1 - Panama
C2 - Steeled Design Drawing
C3 - Wheels
C4 - I Feel Then
D1 - Swell
D2 - Grabbing Hard
Full album stream here