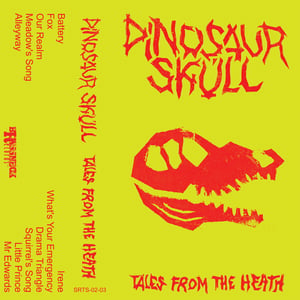 £

7.00
Label
Brassneck Records (srts-02-03)
Detail
11 track Red Shell tape Limited to 50 copies.
The Brassneck Short-Run Tape Series continues with the debut album from Dinosaur Skull. Cil & Mike from Werecats provide 11 new post punk / pop punk songs that don't sound like anything else around right now.
Download code included with each tape.
Tracklisting
A1 Battery
A2 Fox
A3 Our Realm
A4 Meadow's Song
A5 Alleyway
B1 Irene
B2 What's Your Emergency
B3 Drama Triangle
B4 Squirrel's Song
B5 Little Prince
B6 Mr Edwards
Listen / Download here